Problem Solving With Pots
It's a problem shared from young to old, from beginner gardener to experienced horticulturist, from city dweller to the homesteader: How do you grow what you want to grow in a particular space you are given? Here are four container gardening ideas different people found that worked!
There is hope for Trish, a city dweller, who is missing her dad's homegrown vegetables. When she visits a local garden center, she learns she can grow plenty of food on even a small size balcony. If Trish's balcony gets 6-8 hrs of sunlight, all she needs is a large trough planter or elevated garden bed with good drainage. Using a good quality potting soil is very important as well for root health. She still has room to sit on her balcony and take time out for herself. In preparation for her tiny balcony garden, Trish learns about how to care for herbs and vegetables in her growing zone from her local extension services website, seed catalog websites, the National Garden Bureau, and she even thinks to ask her dad. She learns that there are great varieties of vegetables that are perfect for growing in pots because of their more compact size. Trish gathers the materials she needs from her local garden center and is thrilled with how easy it was to carry her Crescent Garden planters up to her condo balcony. A new generation of vegetable and herb growing is ready to begin.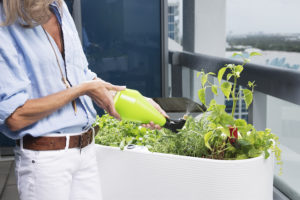 There is hope for Susan who longs to grow her own produce and to grow an assortment of flowers to enjoy. The rocky and hard clay soil around her country home has kept her from tackling the task of soil preparation for an in-ground garden. But a friend at her local garden center suggested to Susan that she could grow all the fruits, vegetables, herbs, and flowers she wanted in pots with a whole lot less effort. Susan bought twelve rectangular Crescent Garden Dylan planters with matching saucers to create her garden area. (The saucers help collect water and aid in keeping the planters from drying out as quickly.) These lightweight planters were easy for Susan to set up in rows in a sunny area and held enough potting soil so that the plants' roots had room to grow well. Her friends admired her container garden design skills by her pretty combinations of ornamental plants with edibles. Susan also enjoyed how little weeding she had to do with her garden growing in planters!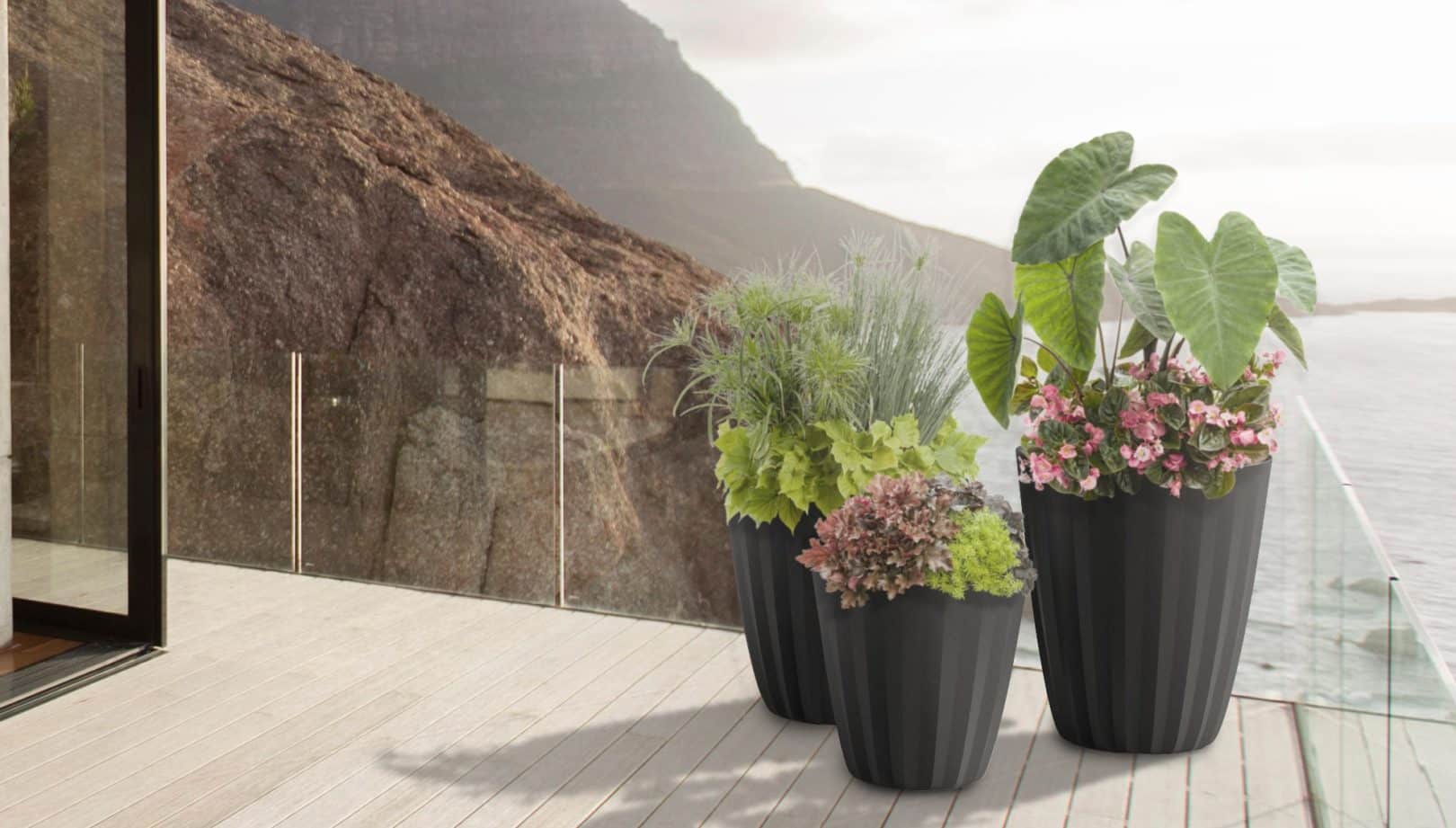 There is hope for Kristen – a new homeowner, a new gardener, and a new owner of a puppy. Kristen and her husband enjoy grilling out and their new patio was a perfect location to grow herbs in pots to use when grilling. But Kristen was worried about the care required for growing herbs in general. How would she know when to water them? And how would she keep the puppy out of the pots? Fortunately, Kristen's sister works in a restaurant that was using Crescent Garden's Nest planter to grow their culinary herbs and told her how the Nest's Trudrop self-watering system had an indicator built into the planter to tell them when they needed to add water. PLUS, the planter sat on raised legs keeping it out of the reach of curious puppies. And, as Kristen later learned, out of the reach of curious toddlers. Kristen can grow her herbs with confidence knowing that those little blue drops on her TruDrop planter will remind her when it's time to water. Container gardening for beginners is simplified for her with these three blue drops.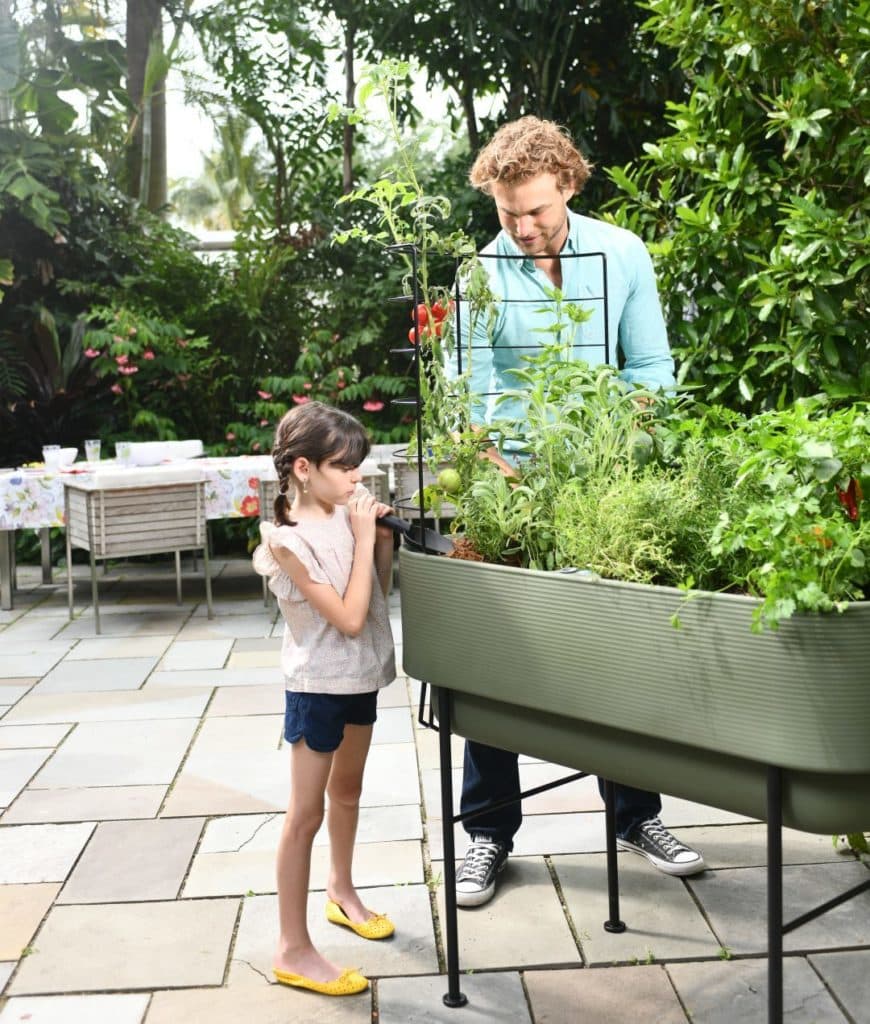 And there is hope for George. George is a knowledgeable horticulturist who has grown unique plants for years. He has displayed his plant collections in his garden with almost as much pride as he displays his grandchildren's artwork in his kitchen. But George knows it's time to move to a smaller place where he has quick access to his growing health issues. Fortunately, George can keep a good sampling of his favorite plants in pots around the small courtyard at his new home. As his neighbors get to know him, they get a glimpse into the vast world of botanical intrigue that makes themselves at home in pots at George's courtyard.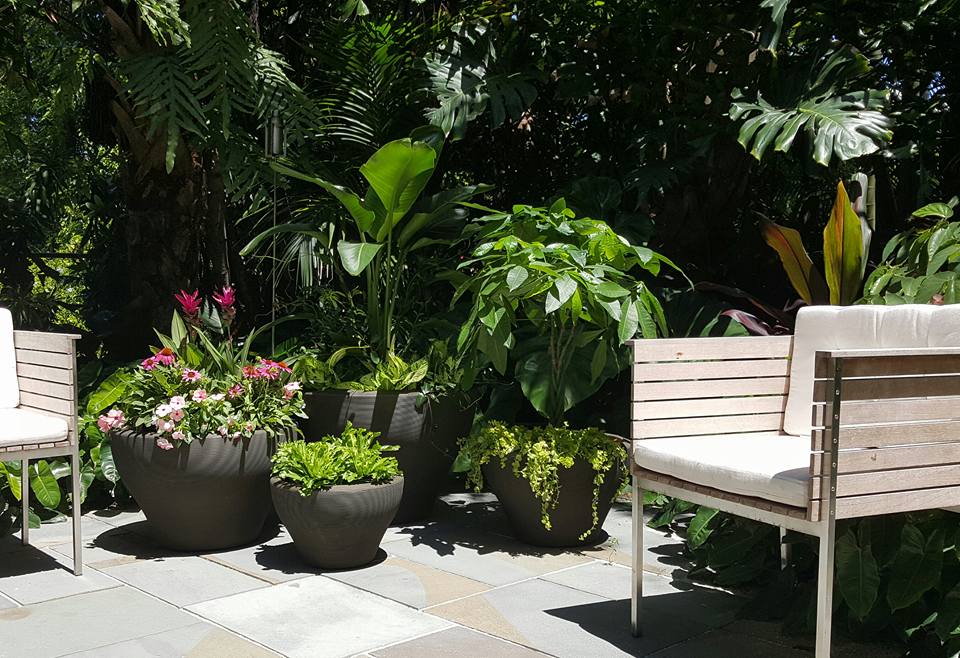 Finding space is not a problem when you want to grow.
*Need good resources for growing herbs and vegetables? Check out these websites:
National Garden Bureau
Bonnie Plants
GoodGardeningVideos.org