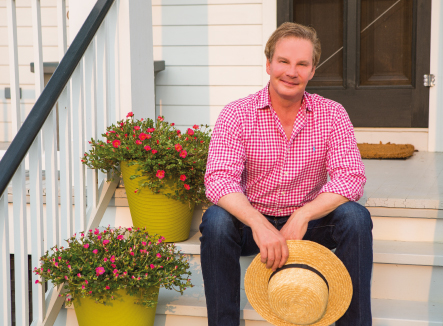 I've always said planting in containers is a great entry point into gardening. I also love the convenience of container gardening. It's easy to change out plants from season-to-season, and, especially with the lightweight nature of Crescent containers, it's easy to move them around from one place to the other. This allows you to give the same container different looks throughout the seasons.
For example, in the spring, I filled my Crescent containers with hyacinths, daffodils, and tulips and placed them on the back porch. In the summer, I moved some of the containers to the cottage entryway, where I planted them with petunias, fountain grass, carex, and cleome. Even after sitting out in the sun all season, they still look great! Because of their double-walled construction, Crescent containers can stand up to the high summer temperatures without fading.
You'll see that the same Bleeker Planter with fountain grass made it into the fall display near the vegetable garden sheds. I filled Madison Planters with ornamental cabbage and mums and used pumpkins and gourds both in and around the containers for a festive touch.
In the winter, I will move the containers elsewhere on the property and probably plant some evergreens that will take us through winter. That double-walled construction comes in handy in the winter too. Unlike terracotta and ceramic planters that are prone to cracking when the temperature drops, Crescent container won't. And, the planters protect the plants' roots from extreme temperatures.
Crescent is my go-to for planters that will take me through all the season for years to come!