My mother loved the movies. One of her favorite childhood memories was being left at the movie theatre on her own for a full day where she would just sit and watch a double or even triple feature. I remember planning Sundays with her where we would do the same, just the two of us, and stay at the movie theatre for a double feature. Popcorn and a soda were a must. My kids are no different. From babies we would take them and the combination of the moving screen and dialogue would keep them quiet for the full two hours. It was wonderful.
No wonder these days we feel truly deprived of our movie going days that seem so long ago, and it seems like we won't be visiting theatres anytime soon. Besides, who would want to go to the movies with a mask and miss out all the great snacks.
A few weeks ago we decided to do an official Movie Night at home. However, no family event could be without some creativity in the kitchen. Here are a few of our new memorable snacks created, of course with some inspiration from our garden.
Hot Pepper Nachos
As tempting as spraying cheese out of a can be, I have decided my kids will have to explore that on their own when they go to college. Here is a quick recipe for quick nachos in your broiler:
Select your favorite brand of tortilla chips. We like ours super thin and crispy.
Lay them out on a baking pan.
Cover with shredded cheese. We just use the "Mexican" style shredded bagged cheese but if you want to get more sophisticated some nice Wisconsin cheddar could work as well.
Cut some spicy hot peppers (serranos work great), and lay them on top.
Finish off with a layer of chopped seeded tomatoes. Keep them small.
Broil in the oven until everything is melded together.
For my picky son, I leave part of the pan with just cheese so he can eat from that end.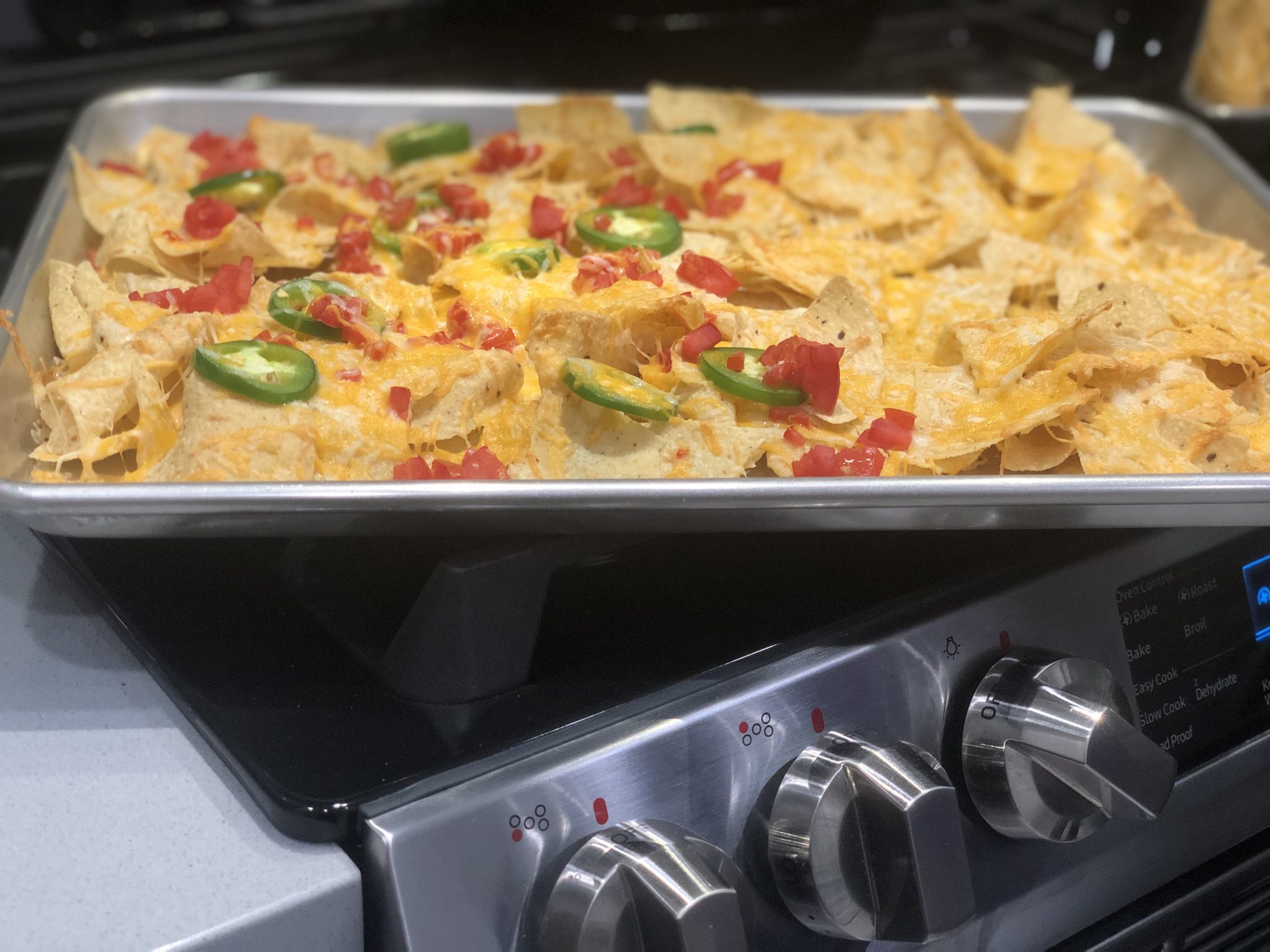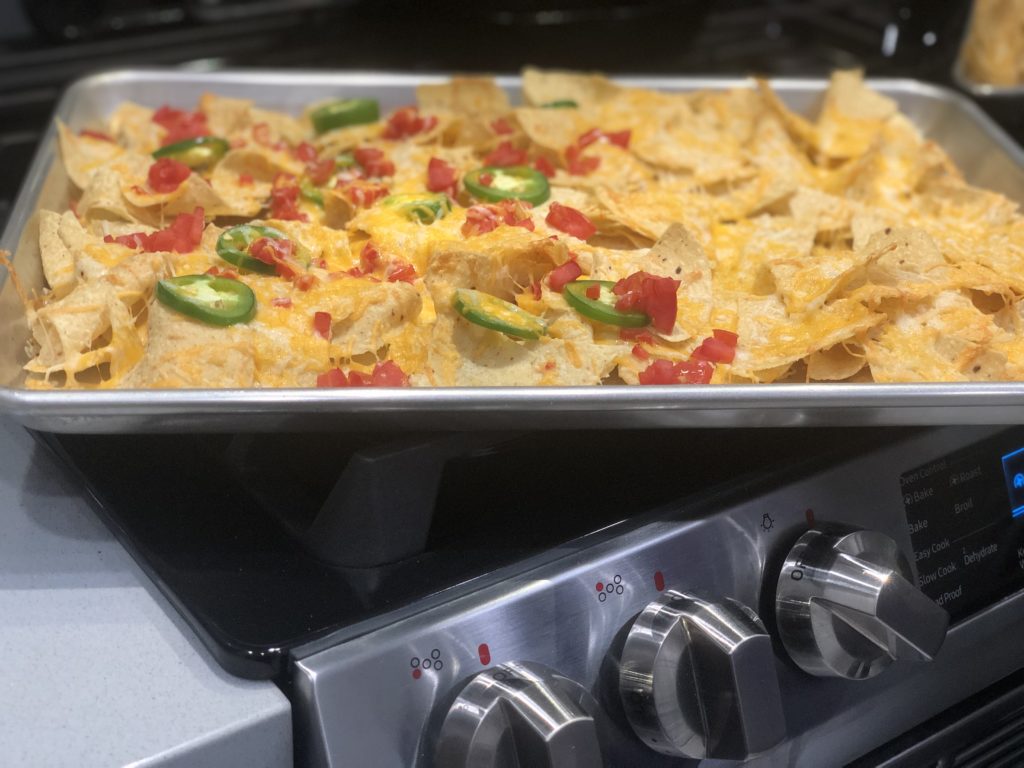 The New Ranch
I know salad doesn't seem like a movie night food, but in our house there is always salad so we thought going with an American traditional dressing would be ideal. I love Ranch but when I started researching on what goes into it, 50 percent mayo and 50 percent sour cream, I thought there has got to be a better way to get my fix. So here is my take on traditional ranch:
3-4 dollops, (large soup spoons) of yogurt
1/2 tablespoon of olive oil
2 crushed garlic cloves into a paste
Chopped garlic chives from the garden
Chopped parsley from the garden
Optional, but highly recommended: A splash of hot pepper sauce
Salt and pepper
Just whisk all the ingredients together, taste and adjust as needed.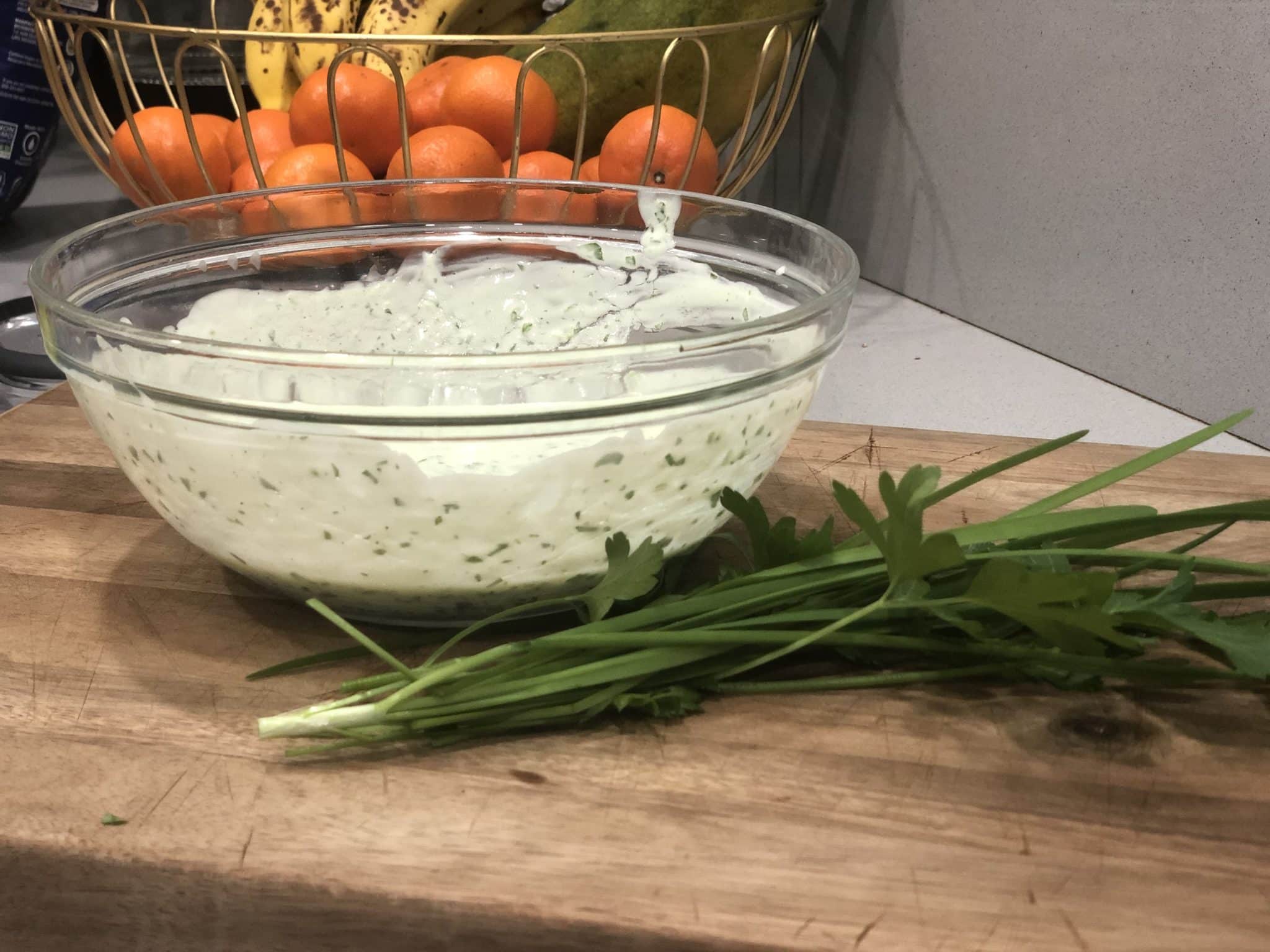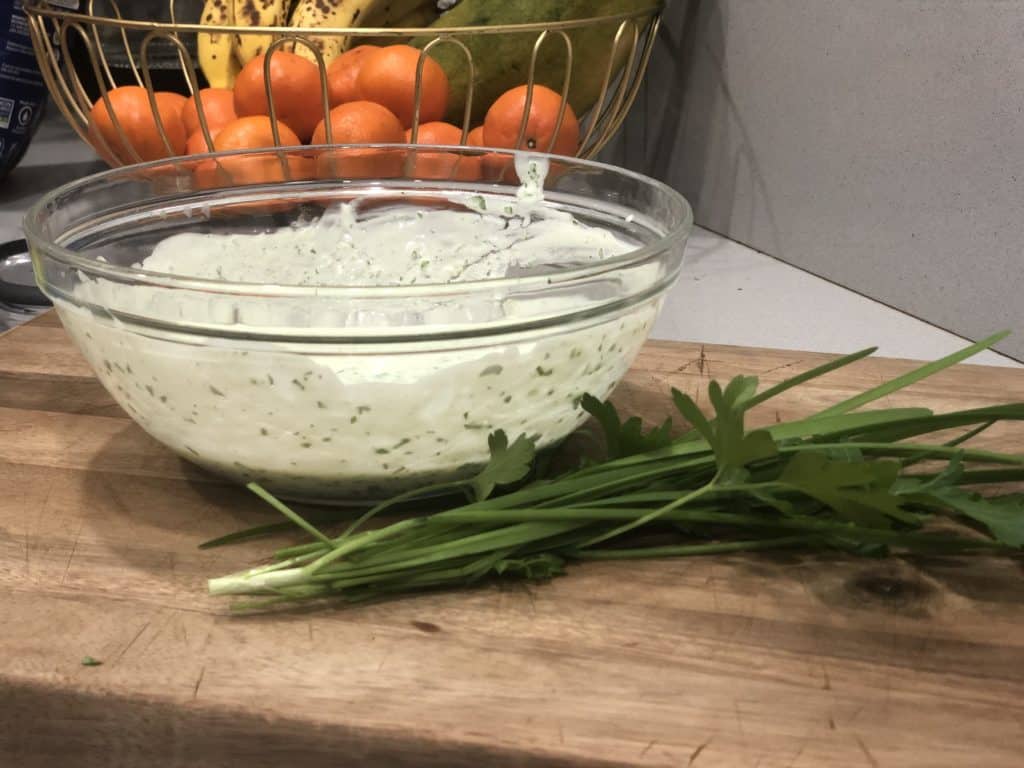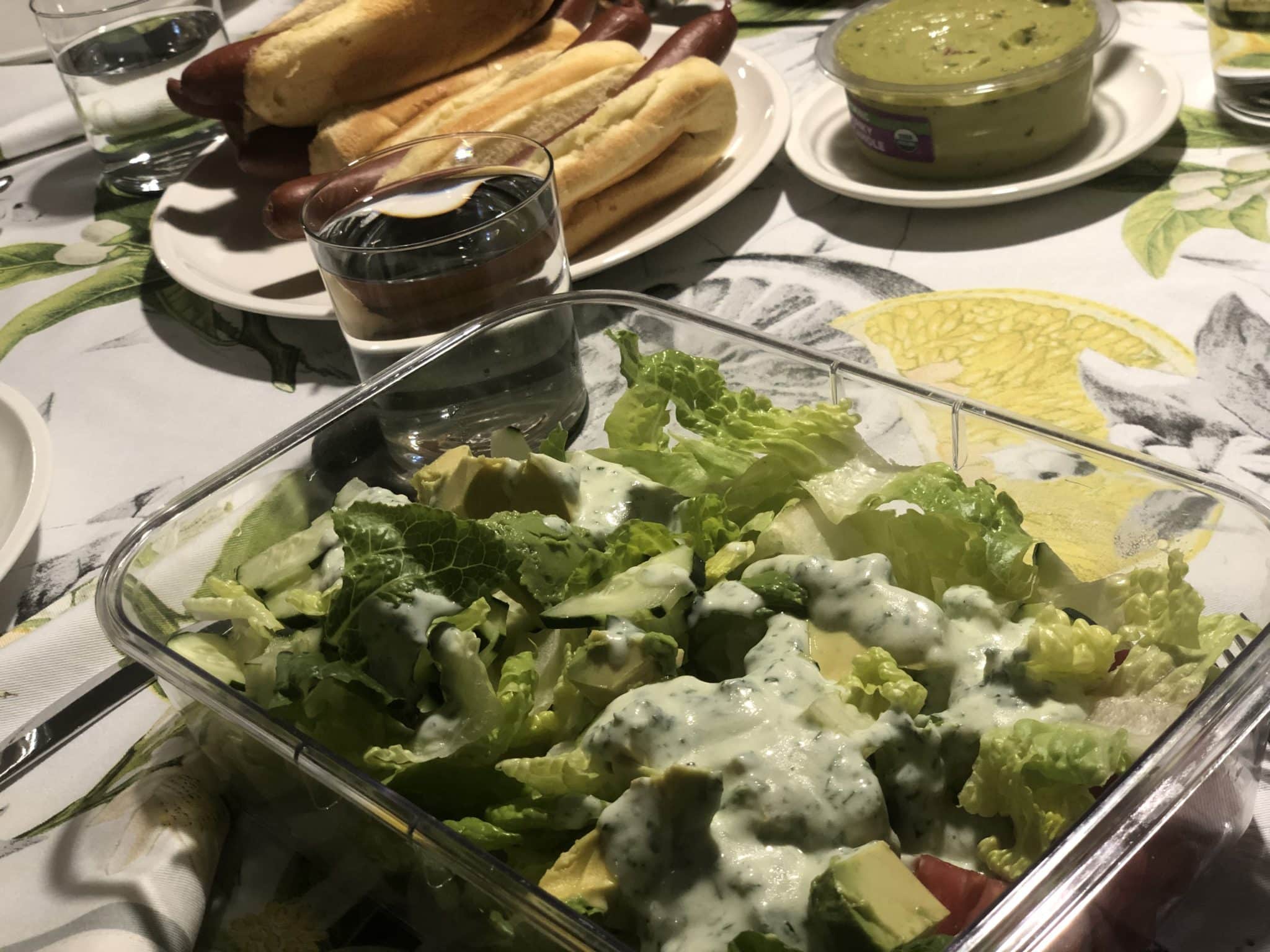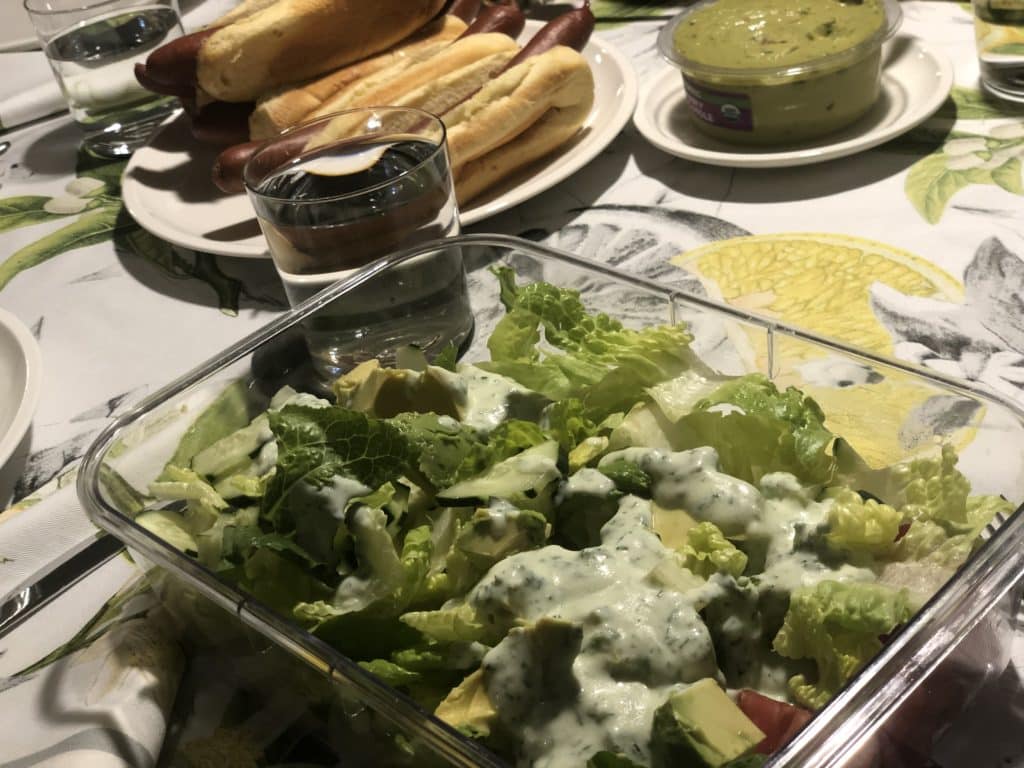 Homemade Kettle Corn
Not the healthiest, but we really don't have the need or the space to keep an air popper. The key to making popcorn at home is buying the popcorn salt. It makes you feel like you are at the movies when your hands get all grimy as you eat. Careful though as over-salting is really easy.  Make sure to mix well and taste before adding too much.
Grilled Hot Dogs
Lastly a good hot dog to go along finalizes movie night. We recently found a new brand that my son, my dad and I, the hot dog lovers in the family, all enjoy immensely. I have been trying for years to find a "natural," nitrate-free hot dog but always found the traditional brands to somehow be tastier. Recently, however, we found a brand called Feltmans. They are uncured, natural casings with no nitrates added. Only thing is grill them, don't boil them. They have a lot of fat and you just don't get the crispy cracks on the casing that you do on the grill.
Let me know if you try any of my recipes and improvements you make on them along the way. Happy Movie Night!